Firlefanz Gallery '06 season
---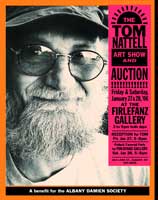 January 27, 2006 A show and auction of Tom Nattell's artworks on the anniversary of his death. We miss you Tom.
---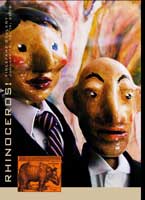 January 12, 13, 14, the Firlefanz puppet troupe showed Ionesco's Rhinoceros to packed houses. This production will be repeated in the fall of '06 at Steamer 10 Theatre in Albany.
Firlefanz Gallery '05 season
---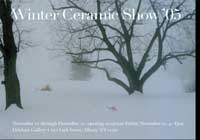 The 2005 Winter Ceramic Show featuring:


CERAMIC ARTISTS JoAnn Axford, Randi Kish, Doug Klein, Nick Lepore, Brenda McMahon, Joanne Millis, Darren Prodger, Ulla Sattinger, Wayne Smith, Lorraine Tansky, and Liz Vigoda.


VISUAL ARTISTS displaying small works during the ceramic show are Pam Barrett-Fender, Dorothy Englander, Anne Francey, G.C. Haymes, Dennis Herbert, Ronda Jeffer, Lori Lawrence, Jason Martinez, Joan Oliver, Dana Rudolph, Char Shortsleeve, and Bill Wilson with photographers David Brickman, Timothy Cahill, Chris DeMarco, Harry Wirtz and Leif Zurmuhlen.


Also on display will be JEWELRY by Cathy Frank, Karen Greendale,Nancy Miller Katie Nare, and Dana Rudolph, ART DOLLS by Mickie McCormick and HAND PAINTED SILK SCARVES by Lynn Holstein.
---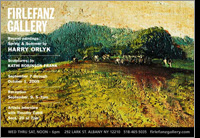 Harry Orlyk, paintings of Washington Co. and Adirondacks., Sept 7 – October 1.
---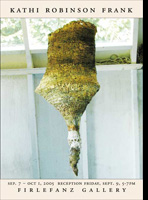 Kathi Robinson Frank, Habitats, sculpture Sept 7 – October 1.
---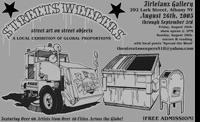 FIRLEFANZ TAKEOVER by Streetsweepers Crew. International invitational show of stencil art. August 24 – Sept 3
---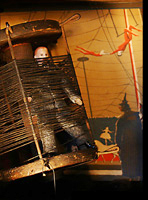 FIRLEFANZ TAKEOVER by The Reno Bros. Works by Sara Ayers, G. C. Haymes, Dennis Herbert, and Michael Eck. July 31 – August 20
---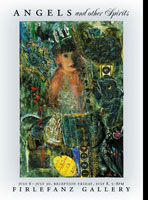 Angels and Other Spirits. Showing works by Robert Cartmell, William Karpowitz, Gail Nadeau, Sylvie Kantorovitz, sculpture by Regina Capobianco. July 6 – July 30
---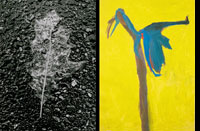 Timothy Cahill Photography, Anne Francey Paintings. June 1 to July 2nd.
---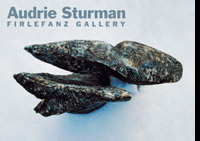 Ceramic Sculptures by Audrie Sturman. May 18 through July 2.
---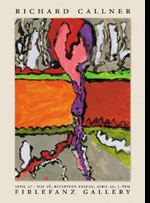 Richard Callner, The Lucca Paintings and Color Abstraction Series. April 27 too May 28. This show is on the site, some pieces are still available.
---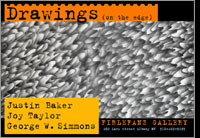 Drawings (on the edge) March 30 to April 23, Justin Baker, Joy Taylor, and George W. Simmons
---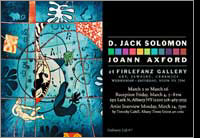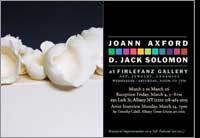 March 2 – March 26: JoAnn Axford, ceramic sculpture, and D. Jack Solomon, painting
---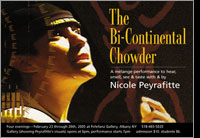 Nicole Peyrafitte, four nights of performance and chowder. Wednesday Feb 23 to Saturday 26, 2005.
Firlefanz Gallery '04 season
---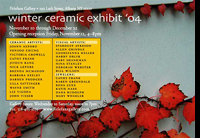 Second Annual Winter Ceramic Show. Nov 10 through Dec 22.

---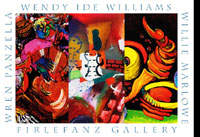 October 13 through November 6, Recent paintings by Wren Panzella, Willie Marlowe, and Wendy Ide Williams.
---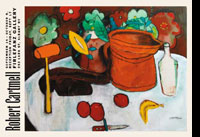 September 15 to October 9th Robert Cartmell -- Still-Lifes and The Garden of Eden. Fabulous show, thank you Robert.

---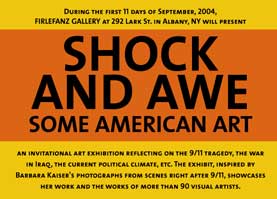 The first 11 days of September, Shock and Awe: Some American Art. Group show with 100 artists, and ten evenings of performance, over 30 performers.
---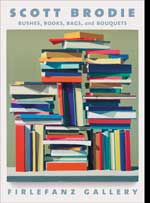 Scott Brodie, Bushes, Books, Bags, and Bouquets. July 28 through August 28.
---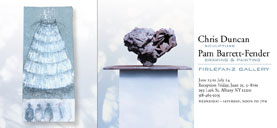 Pam barrett-Fender and Chris Duncan show drawing and painting and sculpture. Barrett-Fender and Chris Diuncan
---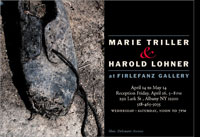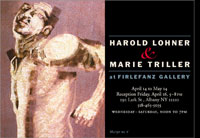 April 14 to May 14: Harold Lohner's monoprints and art books -- Marie Triller's photographic "Wasteland" project.
---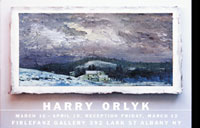 March 10 to April 10: Harry Orlyk's show of recent work including the Culebra paintings.
---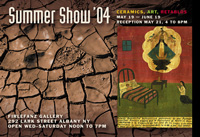 Summer Ceramics Show. May 19 to June 19.


CERAMIC ARTISTS:
Regis Brodie

Jil Fishon-Kovachick

Cathy Frank

Fitzhugh Karol

Brenda McMahon

Nicholas Newcomb

Darren Rodger

Wayne Smith

Brian Sprengelmeyer

Liz Vigoda

John Visser

Walford Williams

Retablos by: Gerardo


ARTISTS:
G. C. Haymes

Yunjung Kim

Lori Lawrence

Monica Miller

Marie-Louise McHugh

Charlene Shortsleeve

Liz Vigoda


JEWELRY BY
Rena Luxx

Cathy Frank

Karen Greendale

Katie Nare

Mary Wheeler

---
Firlefanz Gallery '03 season
---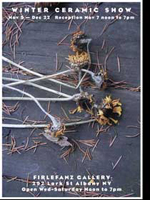 The Firlefanz Winter Ceramic Show.
---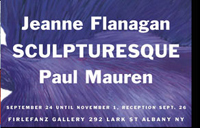 "Sculpturesque," new work by Jeanne Flanagan and Paul Mauren. The exhibit includes wall sculptures, painted works on paper, drawings and photographs.
---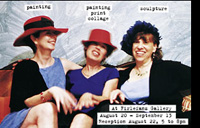 August 20 through September 13. paintings by Monica Miller, paintings and prints by Lori Lawrence, and sculpture by Audrie Sturman.
---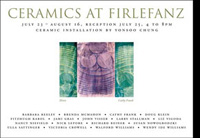 July 23 through August 16, Ceramics at Firlefanz with a garden installation by Yonsoo Chung.
---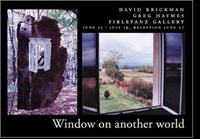 June 25 to July 19, 2003. Photographs by David Brickman, assemblages by G.C. Hames
---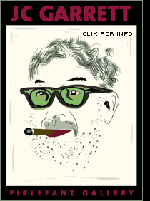 May 28 through June 21, 2003. Founder of the notorious artists coop Workspace Loft Inc. in the 70s. Albany's own J.C. Garrett returns from the west coast with a thought-provoking series of prints at Firlefanz Gallery rkspace Loft, Inc.
---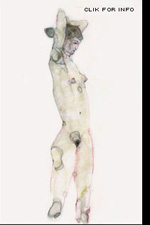 Firlefanz Gallery's Bill Wilson show. Bill helped us select paintings and carvings encompassing 30 years of work.
---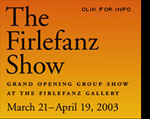 Spring of 2003 -- Grand opening show at Firlefanz. Thanks to the artists who joined in and all those who came and supported the new gallery.
---

February 8, 2003 7 to 11 pm. this event was initiated by Sandra and Phil at Changing Spaces Gallery, and coordinator Heather Clark. A big success, it included ten venues, presented music and art for center square strollers on a cold winter night.