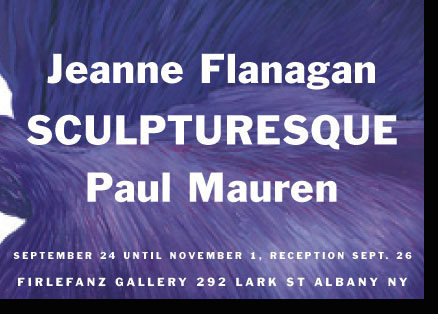 Firlefanz Gallery at 292 Lark Street in Albany's historic Center Square is pleased to announce the exhibition "Sculpturesque," with new work by Jeanne Flanagan and Paul Mauren. The exhibit includes wall sculptures, painted works on paper, drawings and photographs.


The show will open to the public on September 24 with a reception for the artists on Friday, September 26, from 5 to 8 pm. The exhibit will run through November 1.




Jeanne Flanagan has been making outdoor sculpture for more than twenty years. Photographs of recent slate constructions, which she refers to as "ground reliefs," allude to nature and her figurative background. Related delicate watercolor paintings and drawings provide insight into the artist's working process. Through drawing and computer imaging, photographic views of sculpture are manipulated "to reveal the form within the form." Example of Flanagan's watercolors


Flanagan has participated in outdoor sculpture shows in New York including Stone Quarry Hill Art Park, Cazenovia; Art Omi, Ghent; Skidmore College, Saratoga Springs; Lafayette Academy Park, Albany; C. W. Post/Long Island University; Socrates Sculpture Park, Snug Harbor Cultural Center and Manhattan Psychiatric Center. She has constructed sculpture for the Southern Vermont Art Center, Manchester; Fairmount Park, Philadelphia, and several exhibitions at the Chesterwood Museum and the Berkshire Botanical Garden, both in Stockbridge, Mass. Recently, Flanagan completed a permanent outdoor sculpture commission for a private collection in Salt Lake City, Utah.


Flanagan has been widely published and reviewed and is presently teaching at The College of Saint Rose where she is also director of the Picotte Gallery.




Paul Mauren's new work "Swivels" is a series of three dimensional wall constructions in which the artist develops imagery that refers to abstract visual codes, patterns and sequences used in genetic mapping. Detail of Mauren's "Swivels" series


Mauren has participated in numerous sculpture exhibitions including Art/Omi, Ghent; Sculpture Space, Utica; Contemporary Sculpture Chesterwood, Stockbridge, Mass; The Jamaica Art Center, Queens; Southern Vermont Arts Center, Manchester; Munson Williams Proctor Institute, Utica; and The Columbus Museum of Art, Columbus, Ohio. In addition, Mauren has exhibited at numerous academic institutions including: Williams College, The University of Michigan, Hartwick College, Union College, Queens College, Chautauqua Institute, and the State University of New York at Fredonia.


Mauren is currently a Professor of Art at the College of Saint Rose where he has taught sculpture since 1978.


Please join the artists for the reception on Friday, September 26 from 5-8pm.


Gallery hours: Wednesday — Saturday, 12 – 7pm and by appointment.

For more information or additional images of art works please contact Cathy Frank (456-1913) or Ed Atkeson (436-9498)