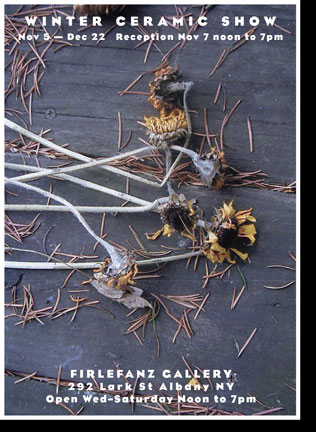 The Firlefanz Winter Ceramic Show.

The show opened to the public on Nov 5 with a reception for the artists on Friday, November 7 from 3 to 8 pm. The exhibit will run through December 22


Many ceramic artists from the Capital Region will be featured including Barbara Reeley, Ben Eberle, Brenda McMahon, Cathy Frank, Doug Klein, Fitzhugh Karol, John Visser, Liz Vigoda, Nick Lepore, Richard Reiner, Ulla Sattinger, Victoria Crowell, and Walford Williams.


Also on display will be artworks by local artists Allen Grindle, Bill Wilson, Cathy Frank, David Brickman, Greg C. Haymes, Jan Galligan, Lillian Mulero, Ronda Jeffer, Stardust Atkeson, Wendy Ide Williams, and Willie Marlowe as well as jewelry by Cathy Frank, Dana Rudolph, Karen Greendale, Mary Wheeler and Rena Luxx

Please join the artists for the reception on Friday, November 7th from 3-8pm.

Gallery hours: Wednesday -- Saturday, 12-7pm and by appointment.

For more information or additional images of art works please contact Cathy Frank (456-1913) or Ed Atkeson (436-9498)