Curtain Call at Steamer No.10 Theatre, Nov. 19 2006. The show was well received, lots of fun.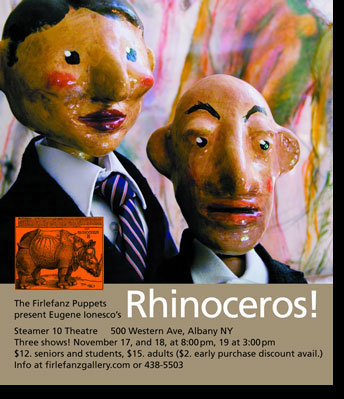 Firlefanz Puppets presents
RHINOCEROS!
by Eugene Ionesco
Directed by Ed Atkeson
PUPPETEER
Larry Stallman
Ed Atkeson
Hadiya Wilborn
Raphael Mishler
Douglas Cohn
Lori Lawrence
Meave Tooher
Lori Lawrence
Douglas Cohn
Raphael Mishler
Hadiya Wilborn
Hadiya Wilborn

puppet
BERENGER
JEAN
PROPRETOR'S WIFE
PROPRIETOR
LOGICIAN
HOUSEWIFE
DAISY
MS. BOTARD
DUDARD
MR. PAPILLON
MRE. BOEUF
FIREMAN

VOICE
G.C. Haymes
Joe Krausman
G.G. Roberts
Paul Jossman
Paul Steinkamp
Monica Miller
Naomi Kriss
Monica Miller
Paul Steinkamp
David Brickman
Paul Jossman
Paul Jossman
THE RHINETTES
George Aitken
Lillie Rose Ruby-Eck
G.G. Roberts
Hanora Tracy
Lauren Michael
and others
Pit Puppeteer: Melanie O'Malley
Puppet Maker: Ed Atkeson
Stage manager: Abby Fullem
Costumes: Roxanne Storms
Videographer: Cathy Frank
Sound and lighting control: Timothy Cahill
Assistant Director: Cathy Frank
Ushers: Roxanne Storms, Cathy Frank
November 16: Dress rehearsal was last night, things are going well for our three-night run of Rhinoceros. Still some lighting tweaks needed, but everything is in place, I have made more rhino masks, I'll post more about them soon. We have eight. It will be nice to have eight rhinocerous people roaming around the theatre.
Steamer 10 Theatre
November 17, 18, (8pm) and 19 (3pm) 2006.
$12. seniors and students, $15. adults
($2. early purchase discount available)
518-438-5503