November 7: I have seen the Tiny Ninjas they (or he) did Hamlet at the Capital Repertory Theatre in Albany.
I had a good time. It was performance art which is to say that Dov Weinstein's movements between the sets on the stages, and the closeup camera views, all the details of his movements in the service of the Hamlet script, was enough to keep my interest.
Added to that was the Hamlet story. It was a very competent reading of an incompetent script. I understand Weinstein started with a script that was possibly written down from memory by a Shakespearean cast member. This script was then stripped of any long monologues, crippled down to 50 minutes. It was performed effortlessly.
My friend Tim remarked that we were watching a man playing with toys, and that there was some of that kids down on the rug playing kind of intensity coming through from this production. It's true, he was getting the magic of toys, the playing and creating and being and losing your mind to a small made up world. Mixing that with the most important literature in the western world, pretty good.

---
10-26-07: A fantastic personal collection of shadow puppets has been discovered
in the posession of a professor at the State University. They will be on display as follows (the school's blurb):
This dynamic installation brings to life a 2,000-year old popular folk art that continues to engage audiences of all ages. Featuring actual shadow figures and documentary video material from the collection of Dr. Fan Pen Chen (UAlbany East Asian Studies Department)


Nov 2, 2007-Jan 6, 2008


Opening Reception: Fri, Nov 2, 5-7pm


New York State University at Albany, 1400 Washington Ave., Albany, NY 12222 (518) 442-3300
Also, this performance by the Chinese Theatre Works troupe:
TIGER TALES: production by Chinese Theatre Works
The Chinese Theatre Works is the only professional Chinese shadow theater company in the United States. Drawing on the China's 2,000-year history of shadow puppetry,Tiger Tales blends ancient and contemporary techniques in a comical story of survival in the modern jungle. Tiger Tales is performed in English accompanied by traditional Chinese music,and is suitable for all ages.


Performance: Fri, Nov 9, 7pm at the Art Museum
OVERHEAD PROJECTOR SHADOW PUPPETRY WORKSHOPS:
Conducted by Chinese Theatre Works
These workshops will guide participants through the entire process of planning, designing, building and performing a 2-5 minute shadow figure production.Participants will create brief shadow performances using a range of materials (cardstock,acetate,wire,fabric scraps,gel,found objects,kitchen utensils,toys,and more). Ages 8 to adult
ABOUT CHINESE SHADOW THEATRE:
Shadow theatre is an Asian contribution to the performing arts. In China, ancient written records tell about a Taoist magician using shadow images to comfort the great Han Emperor, who was grieving the death of his beloved wife. Over the centuries, the Chinese shadow theatre tradition evolved into a sophisticated art form, closely related to Chinese opera. Delicately carved and colored animal-skin figures are manipulated behind cloth screens to portray characters from literature, folktales, and religious parables.

---
10-12-07: I went to see the Shinnai Narrative Singing and Kuruma Ningyo Puppetry at Williams College in Massachusetts last week. It was called "Laughter and Tears from Old Japan."
It was in a small theatre on campus, sold out. About 150 people. They did two shows, one short and somber one-puppet classic called "snow," and a longer funny piece called "Yaji and Kita." A 200 year old knee slapper.
The biggest star of the evening was the Shinnai singer. He sang all the dialog using different voices, sometimes throwing in bits of English which was a crowd pleaser. Especially words like "my balls" and "horse shit." According to the program, this style of singing is from the 1700s and the early works of the genre were mostly Romeo and Juliet style double suicides as these stories had the richness of romance and tragedy combined.
Each puppet was controlled by a single puppeteer. Bunraku is with three puppeteers, they explained, and Kuruma Ningyo was with one. The puppeteer would sit on a little wheeled box which freed his feet to control the feet of the puppet. Worked pretty well, I'd never seen anything like it. The puppeteers could scoot around pretty quickly. Two shamisen players accompanied the singer, a good show!
The singer was a living national treasure (Bearer of Intangible Cultural Property).
That's my report. I thought the comedy came across better than the tragedy, but I didn't have a very good seat. There was no stage, no special lighting, it was sort of like seeing something at a state fair. Imagine a show like this set in sumptuous surroundings in an urban pleasure district of the Edo period, the "floating world." It could be just incredible.
best,
Ed A

---
This morning I was going to the tire place I always go to to get my snows off and summer tires on, June is a little late I know.


It's a pretty long drive. I've gone there for many years and even though I've moved away from that area and now have to actually cross the mighty Hudson to get to the place, I keep telling myself that it would be twice the wait anywhere else so I don't mind the drive -- this place is so quick and economical.


So driving along listening to the local college station, there's this little old lady and champion agitator for the good who reads from the Nation Magazine some days and today she was reading an article about a Cuban theatre troupe who has worked for decades in the streets of Havana and is now touring the world but not the U.S. of course, in the early days with very limited resources, the grandmothers sewing the costumes and kids involved and lighting the stage with kerosene lamps... It wasn't puppet theatre, but it was so inspiring. The article was titled "A Dangerous Little Beehive?" if you want to pick it up.


Turns out my summer tires were too far gone to put on so I'm driving my snows till the fall.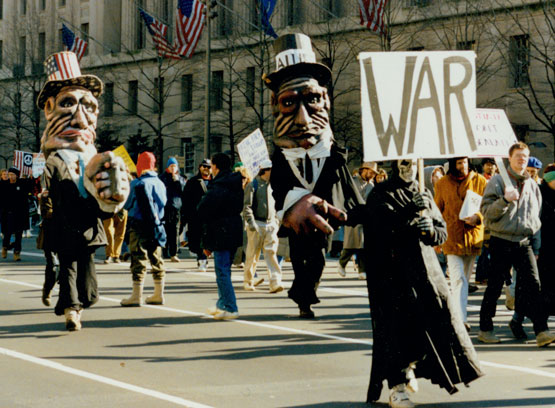 Should Pa Ubu wear a tie? Well? Peter Schumann's Mr Fatso comes to mind, one of the most completely realized puppet characters imaginable and I can see Pa Ubu with a tie at least. With a suit and tie with a cigar and Uncle Sam top hat, Mr Fatso is the ur-villain of the world.


The spiral that Jarry drew on the front of Ubu's chemise would still be there.


On that subject, the Ubu Cocu is tempting to stage because of the business of the conscience in the trunk and Achras impaled on the spike.

Goethe's Faust has long fascinated me and given me ideas as I read and reread it. When you get down to it though, it's complex and disjointed, hard to turn into a puppet show. Marlowe's Faust is much more straightforward fun. Marlowe's Faust at least has the strength of a character determined to enjoy himself doing bad things.


Goethe put together bits of the Book of Job, then Romeo and Juliet, then Hamlet, with Marlowe's story. There is the fascinating character of Mephisto, and then there is the long suffering and tragic character of Gretchen -- the one who really is in hell. Maybe Faust's suffering was the guilt for having caused the torturing, abasement, and horrible death of Gretchen. Ok, I'm sure he felt terrible about it, but it was Gretchen whose life was ruined.


Maybe the general assumptions of Goethe's day hold that the pain and ruin, insanity, imprisonment, and death of a young woman really doesn't get the headline.